Sensory play is vital in your baby's growth and development as it stimulates your baby's sense of touch, smell, taste, sight, and hearing. Not only that, it also helps in developing gross and fine motor skills. If you want to know more about sensory play and its benefits, you can read it in our previous post here. Sensory play is great for your little one to explore their senses, but one thing we all know about babies is that they like to put everything in their mouth and some things are unsafe for them. Hence, when you are thinking of doing sensory play for your baby, you want to ensure the activity is safe: taste-safe and not a choking hazard. Here are 5 fun sensory play activities that you can try for your little one.
#1 Edible Baby Sand
What you need: Graham crackers and oatmeal
How to:
Break about 25 pieces or so of graham crackers into smaller pieces
Place them in a food processor or blender
Do the same for 2 cups or so of oatmeal
Mix the two together in a large container and ensure there are no large pieces of crackers
Ready to play!
You may also want to hide some toys in the sand for a fun surprise for your little one.
#2 Exploring Temperature
A super simple activity to put together. All you need is two bottles – 1 filled with warm water and 1 filled with water and ice cubes. Then sit with your little one and introduce each bottle one by one and let your little one feel them and tell them what each one is. You may also want to encourage them to feel both at the same time!
#3 Rainbow Spaghetti
What you need: Cooked spaghetti, food colourings, and alphabet blocks
How to:
Cooked spaghetti in a small pot
Drain, toss, and add a couple teaspoons of oil and mix well
Divide the spaghetti into five bowls
Add food colouring to each one and mix well and leave to cool
Once they are cooled, place all the coloured spaghettis in a container
Add alphabet blocks for more fun
Time to play!
For more fun:
Change the alphabets with numbers and ask your little one to search for them and name them one by one.
Ask them to find letters from their name or to spell out small, 3-letter words.
#4 Sensory Basket
Another easy activity to put together. All you need is a small basket and colourful, interesting objects. Ensure that the objects you put in have no sharp edges and no loose threads. You can also put in shiny and light-up objects such as metal measuring spoon set, a small handheld mirror, a large bouncy ball with lights in it. You can spice it up with anything you can find in the house, really!
Be sure to keep an eye on your little one while you're playing with them.
#5 Mixed Beans & Peas In A Tub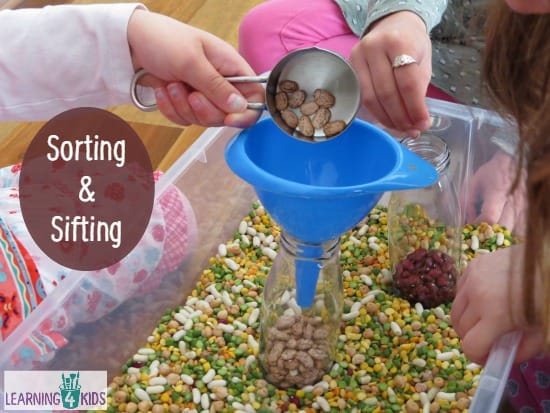 A fun and easy activity that can be enjoyed with the whole family. What you need: A medium size tub, spoons, scoops, cups, funnels, jars, and a mixture of dried beans, peas and lentils.
The best part is that this sensory tub can be re-used several times for future play experiences by storing the bean and peas mixture tub with a lid.
For more fun:
Scoop, sift, and pour the bean, pea and lentil mix.
Search for different colours and place them into different containers.
Layer different coloured beans, peas and lentils in the jars.
You may also want to conduct a little science experiment with your child by placing different beans, peas, and lentils onto a water soaked paper towel on a plate and watch what happens in next few days!